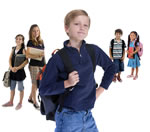 Katy ISD is a flourishing suburban school district that encompasses 181 square miles in east Texas. Its eastern boundaries stretch to Houston's energy corridor approximately 16 miles west of downtown Houston and extend along Interstate 10 to a few miles west of the city of Katy.
In the 2007-08 school year, student enrollment has grown to more than 55,000 served by 47 schools - including six high schools.
Rated as academically acceptable by the Texas Education Agency, Katy ISD offers an outstanding instructional program with facilities, equipment and materials that are among the best in the state.
WEST MEMORIAL SCHOOLS
West Memorial's 3 schools are Katy High School, West Memorial Junior High and West Memorial Elementary. School bus route information specific to your residence is available on the web at http://busroutes.katyisd.org . Type in your block number and the first three or four letters of your street name.
If you have questions regarding transportation or your student requires special transportation, you can obtain information from the KISD Transportation Department.
SCHOOL BUS INFORMATION
General school bus information can be obtained as follows:
East of Mason Road call 281-396-2700
West of Mason Road call 281-396-7560
In the event of inclement weather, building power failure or other conditions, Katy ISD may find it necessary to cancel or alter the pick-up or drop-off times. These television and radio stations will be contacted by 6:00 a.m.
Radio Station Updates
Radio Stations
KQUE - 102.9 FM; KTRH - 740 AM
KIKK - 650 AM/95.7 FM; KODA - 99.1

Television Stations
KPRC-TV, Channel 2; KHOU-TV, Channel 11
KTRK-TV, Channel 13; KRIV, Channel 26
KTMD-TV, Channel 48
INDIVIDUAL SCHOOL INFORMATION
For more information on individual schools please contact: