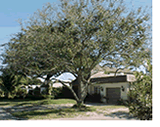 West Memorial is an established suburban development in West Houston between S. Mason Road and the Grand Parkway, I-10 and Kingsland.
We have an Elementary and Junior High School situated in the center of the subdivision, which are are both within walking distance of virtually the entire community. Our proximity to amenities is second to none. We are minutes away from the new Memorial Hermann Hospital, all types of clinics and doctors and medical facilities, the Katy Mills Mall, the Houston Energy Corridor and the Mason Road/Grand Parkway shops, stores and restaurants.
We are a quiet, safe neighborhood with wide, shady sidewalks and a friendly atmosphere. We have an active community association with a pool (open during the summer), a clubhouse and a lovely park.
Baby Bird Season
It's that time of year again: baby bird season. You may see baby birds wandering around outside of their nests. When a bird leaves the nest it needs practice learning how to fly, just like toddlers need practice learning how to walk. This process is called fledging. At this point the baby doesn't have proper feathering to allow flight and may be on the ground a few days until its wing and tail feathers grow a little more. The parents stay nearby and tend to the baby. The best thing you can do for the bird is to leave it alone. If it's in harm's way because of dogs and cats, you can move it but keep it as close to the nest as possible. For more information on wildlife or to volunteer, call TWRC WILDLIFE CENTER at 713-468-8972 or go to www.twrcwildlifecenter.org. Two locations: Houston and The Woodlands. Cheryl Conley, Vice President

GO TIGER SHARKS!
West Memorial Swim Team is starting registrations for the 2013 swim season.
The Tiger Sharks operate from the West Memorial Pool, 22415 Kingsland, Katy TX 77450 through the generosity of the West Memorial Civic Association.
Click here for 2013 West Memorial Swim Team Schedule
Registration is $85.00 for West Memorial Residents
Registration is $105.00 for non-residents.
With a $250 sponsor donation
Sign up $35.00 per swimmer
With a $325 sponsor donation
Sign up $25.00 per swimmer
With a $400 sponsor donation
Sign up $15.00 per swimmer
With a $500/more sponsor donation
Sign up is FREE!
If you have any questions, please contact Helen Helm at wmsttigersharks@gmail.com
NEW MANAGEMENT COMPANY!
The Board of Directors for West Memorial Civic Association would like to take this opportunity to introduce High Sierra Management, Inc. as the Association's new Management Company effective September 1, 2012. High Sierra Management is a full service management company and will oversee the day-to-day business activities of the Association.
Tami Martin is the Association's Manager and Dannielle Raper is the Association's Assistant Manager. The Association has a direct phone number for your convenience. The number is 866-844-3933 and will direct you to whomever in the management staff you wish to speak with; manager, administrative staff, accounting and the work order department. For emergency purposes, this number also provides you with twenty-four hour emergency service. When contacting the office or speaking with the answering service, please be sure to give your name, homeowner association, address and telephone number where the call can be returned. The management office is located at 722 Pin Oak Road, Katy, Texas 77494 and office hours are Monday through Friday 8:00 a.m. to 5 p.m.
You may also contact your management team by visiting the High Sierra Management website at www.highsierramanagement.com and selecting "Online Requests."
A WARNING FROM THE CONSTABLES!

Recently there have been several incidents regarding mail theft. This is not an isolated occurrence in West Memorial, other sub-divisions have also been victimized. Please be cautious when placing checks in your outgoing mail. The targets have been the mailboxes with the "flags" up.
If you see anyone that looks suspicious or looking into someone's mailbox, please call the constables at 281-463-6666!
WEST MEMORIAL CIVIC ASSOCIATION BOARD
MEETING SCHEDULE


LOST AND FOUND PET SERVICE
for West Memorial and Governors Place
We now have a very successful Lost and Found Pet Service for West Memorial and Governors Place. If you would like to join this group or if you find a lost pet, please call 832-620-7528 or email apetsdomain@yahoo.com. Let's keep our pets safe!
Please note: This group is a way for neighbors to communicate with a common goal of a safer community for our pets and ourselves. The owner/moderator of the group is not an animal control agency or a shelter for lost animals. If you cannot commit to holding a pet for a reasonable amount of time to allow an owner to surface, please DO NOT PICK UP A PET. Do not expect to pick up a pet and drop it off with the owner/moderator. She is always willing to offer assistance in advertising or lending supplies or other needs depending on the situation, but she cannot accept lost pets. Thank you for your understanding.